<!– s:arrow: –>
<!– s:arrow: –>
Albatros D.Va
5426/17 Ltn zur
See Gotthard Sachsenberg
MFJ I, Aertrycke late Summer/Autumn 1917
DOWNLOAD:
Mirror#1
or:
Mirror#2
<!– s:arrow: –>
<!– s:arrow: –>
Albatros D.Va
Ltn
Helmut Dilthey
leader of JASTA 40s, mid-1918
Download:
Mirror#1
or:
Mirror#2
<!– s:arrow: –>
<!– s:arrow: –>
Albatros D.III
Ernest Hess
JASTA 28w.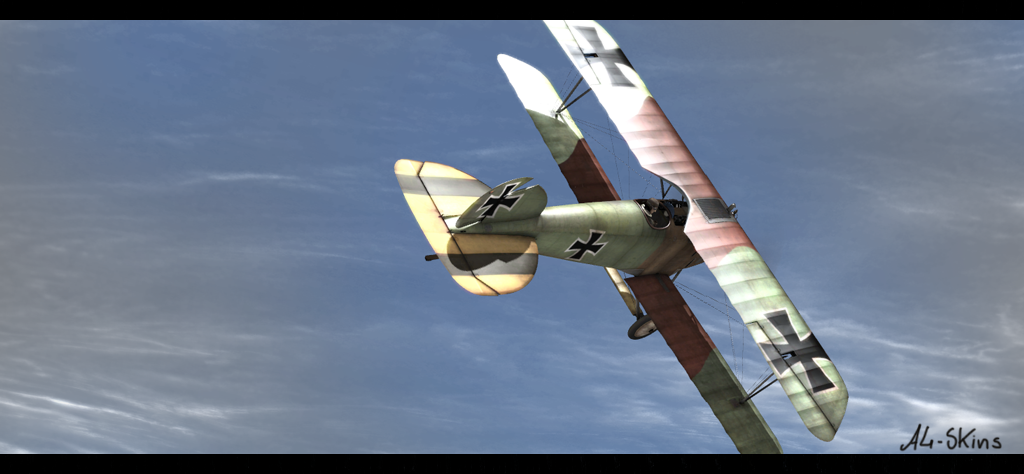 Ernst Hess got his pilot's wings already by 1913, and in the same year enetred service with Luftschiffer Battalion Nr.3, from which he transferred to FFA3 in the spring of 1914. In November, he was cleared for combat duty and was subsequently attached to FA9 on the Western Front. He continued to serve as a reserve officer with FA62 and KEK Douai, where he was able to claim his first kill on January 5th, 1916. He later served with Fokkerstaffel 'C' (where he gained one victory),
Fokkerstaffel Sivry, Jasta 10 and Jasta 28w. By September 16, 1917, he increased his tally to fourteen kills. This was followed by a transfer to Jasta 19, where he
served as Staffelfuhrer.On October 30, 1917, he downed his seventeenth and final adversary. He was shot down and killed on Christmas Eve during combat with
the French Esc. N. 96. The illustrated aircraft is a reconstruction of Albatros D.III 204/16, in which Hess gained most of his victories (fourth to fourtheenth).
DOWNLOAD:
Mirror#1
or:
Mirror#2
<!– s:arrow: –>
<!– s:arrow: –>
Albatros D.III
Oskar Müller
JASTA 12.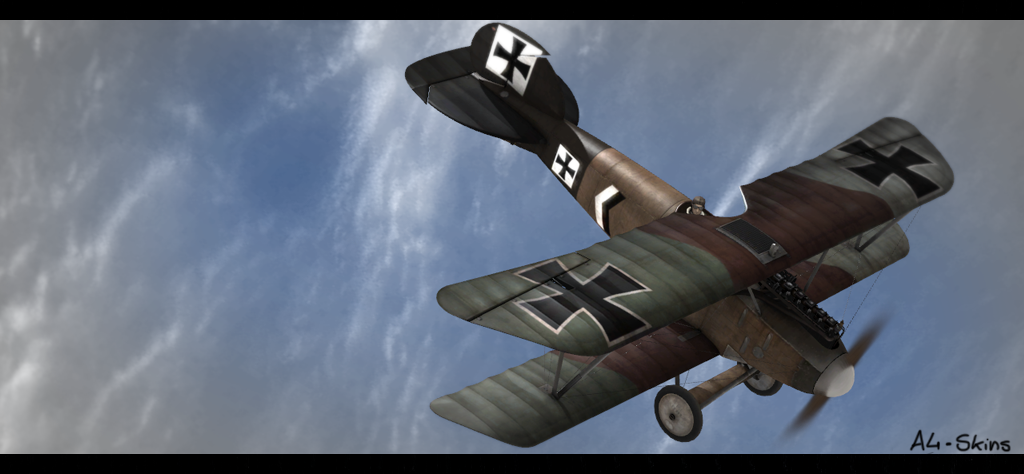 Oskar Muller served with Jasta 12 from January, 1917, as its 'Offizier zur besonderen Verwendung', or 'Adjutant' (with some sources giving him the function of
technical officer). He served in the same capacity with Jasta 31 from June, 1918, operating at Remes. It is not known if he gained any aerial victories,
but it is necessary to bear in mind that serving as adjutant carried with it the responsibility of ensuring the smooth operations of the unit and administrative duties,
not just combat operations.
DOWNLOAD:
Mirror#1
or
Mirror#2
<!– s:arrow: –>
<!– s:arrow: –>
Albatros D.III
Rudolf Hohberg
JASTA 11, FA(A)263/Hans-Georg Lübbert.
The specific scheme on this aircraft is a bit of a puzzle. This aircraft is visible in the background in some Jasta 11 photographs from April, 1917, and is attributed to
Hans-Georg Lubbert. In that case, the top surface of the fuselage should, according to written documentation, be in yellow. The same scheme of this aircraft is
attributed to Rudolf Hohberg on different and more detailed photographs.Apparently, that aircraft was used by FA(A)263 as a high speed recce bird with a fuselage
mounted camera. The question then becomes one concerning the color and markings. The top half of the fuselage appears very dark. It is possible that this was
Lubbert's earlier aircraft, in which case that fuselage color could be the yellow (yellow showed up as very dark on contemporary film). It cannot be ruled out that this
was a different aircraft, or the same aircraft repainted, where the yellow could have been replaced by likely brown or dark green.
DOWNLOAD:
Mirror#1
or
Mirror#2
<!– s:arrow: –>
<!– s:arrow: –>
Albatros D.III
Julius Buckler
JASTA 17.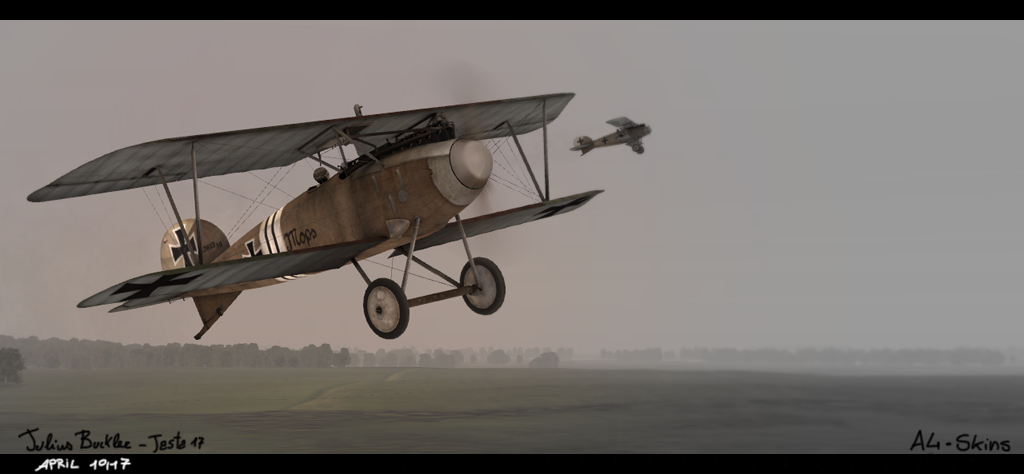 Julius Buckler began the war as an infantryman on the Western Front. After being seriously wounded, he requested a transfer to the air force. After completing
training, he first served as an instructor prior to serving with FA(A)209 in the vicinity of Verdun. He was transferred to Jasta 17 in November, 1916, and remained
there to the end of the war. For his successes, he gained RegularArmy Officer status. This was considered a high honor, and a strong endorsement in recognition
of combat ability. On April 12, 1917, he was awarded the Pour le Merité. By that time, he had achieved thirty kills, but was also hospitaized for serious injuries.
In August, 1918, he was named CO of Jasta 17. His official tally peaked at 36 on October 30, 1918, although on November 8th, he achieved a kill that could not be
confirmed.
DOWNLOAD:
Mirror#1
or
Mirror#2
<!– s:arrow: –>
<!– s:arrow: –>
Albatros D.III
Oskar Seitz
JASTA 30.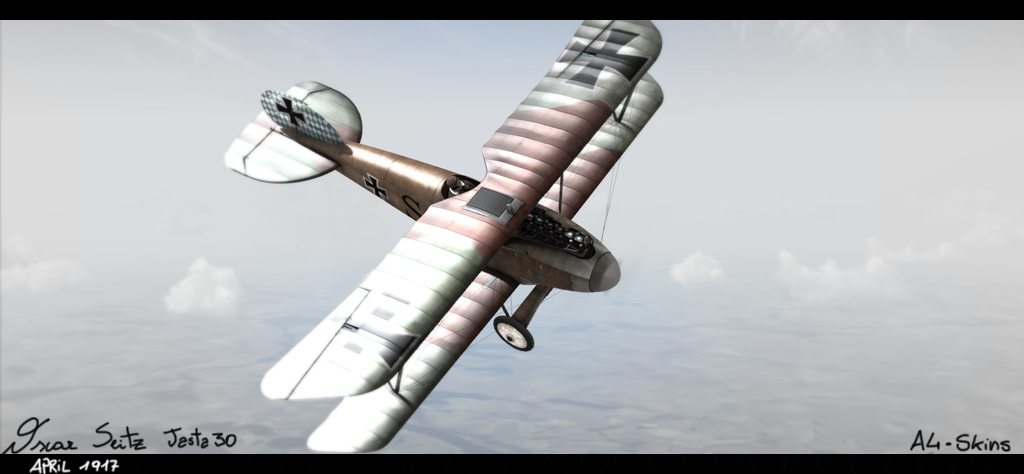 Very little is known about Oskar Seitz. After serving with FAA292, he transferred to Jasta 30 onApril 16, 1917. Up to the end of July, when he was sent to serve with
Armee Flug Park 6, he recorded no victories.
DOWNLOAD:
Mirror#1
or
Mirror#2