Hey guys,
My latest project is making a Rocket! I got real into Rockets back in February when the Space X Falcon Heavy launched. Just the shear power of that thing is amazing!! Wanting to reach for the sky's myself, I decided to build a rocket. A much smaller one XD
I've wanted to do this for a long time, but never properly tried. But when I was in Farmlands NZ the other day, I saw a big bag of Potassium Nitrate and decided to get to work. Luckily, I had the Internet and You Tube to help me out with all this.
The Rocket fuel is a mixture of Potassium Nitrate (KNO3, Otherwise known as salt peter) and some normal Icing Sugar. I think they call it powdered sugar In the states, the super fine stuff I mean.
Anyway, so I ground up the Potassium Nitrate with a block of wood and a hammer fairly fine and mixed it with the sugar in a ratio of 65:35 Potassium Nitrate to Sugar. This is very flammable.
Example:
I then stuffed some dry clay I found on the side of the road into a section of PVC pipe. I made the clay layer about 15mm thick. I'm still experimenting with all this.
Then came the rocket fuel layer, this was a couple of cm thick, then another layer of clay. After It was all compressed down into the tube I drilled a hole to accept the homemade fuse and there we go. A rocket motor ready to blast.
Here is my first test of the Rocket engine (It really needs a name):
(Note, this was done on a wet day and with a hose nearby. Don't worry, I am taking safety precautions XD )
It didn't work great, but the second one fired a bit better.
I'm pretty pleased with the result. I'm guessing to get rid of all the sparking, I need to grind up the Potassium Nitrate more. This might improve thrust as well.
I'm sure that they are plenty strong enough to launch up quite a bit. More experimenting I say.
Obviously I'm not sending anything to the moon but I'm hoping I get a decent height.
Just making It clear, I got most of it all from Online. Sometimes the internet is very very useful XD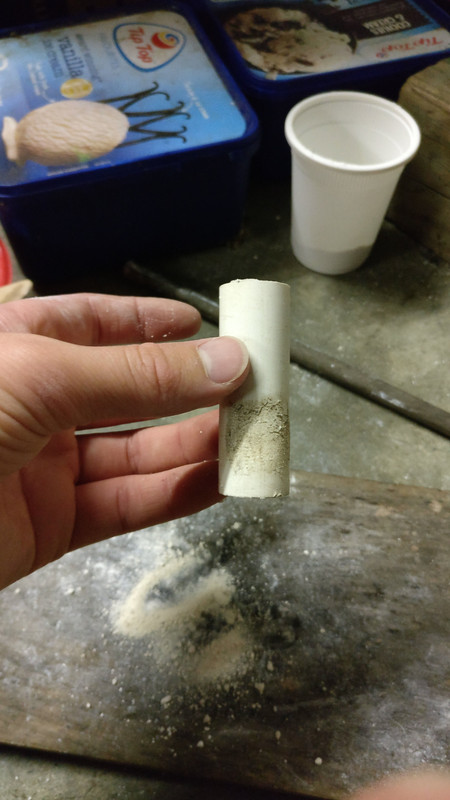 Salute!
Stumble.
Might not see ya in the air any time soon, This rocket needs an astronaut to fly it