L11 Zeppelin Mod WIP Preview By Fritz Flipitz

Original Mod & Posts Here
Rework of my original skin & Alpha WIP
Windows are now windows, more on this.


LUA & Mod Work

Pilot – Pictures 1, 2, 7
Moved forward to his seat

Gondola Gunners – Pictures 3, 4, 5, 6, 11
Lowered Gunner Cells to be closer to the floor
Modded the Felixf2a gunner cells so they can be skinned.
Edited the alpha channel to remove walls, a seat, and the upper gunner position.
Edited Zeppelin LUA use the new modded Felixf2a Gunner Cells
Work I am thinking of doing
Mod the upper gunners and remove all unwanted graphics or replace them.



Windows Issues I cannot fix – Help Requested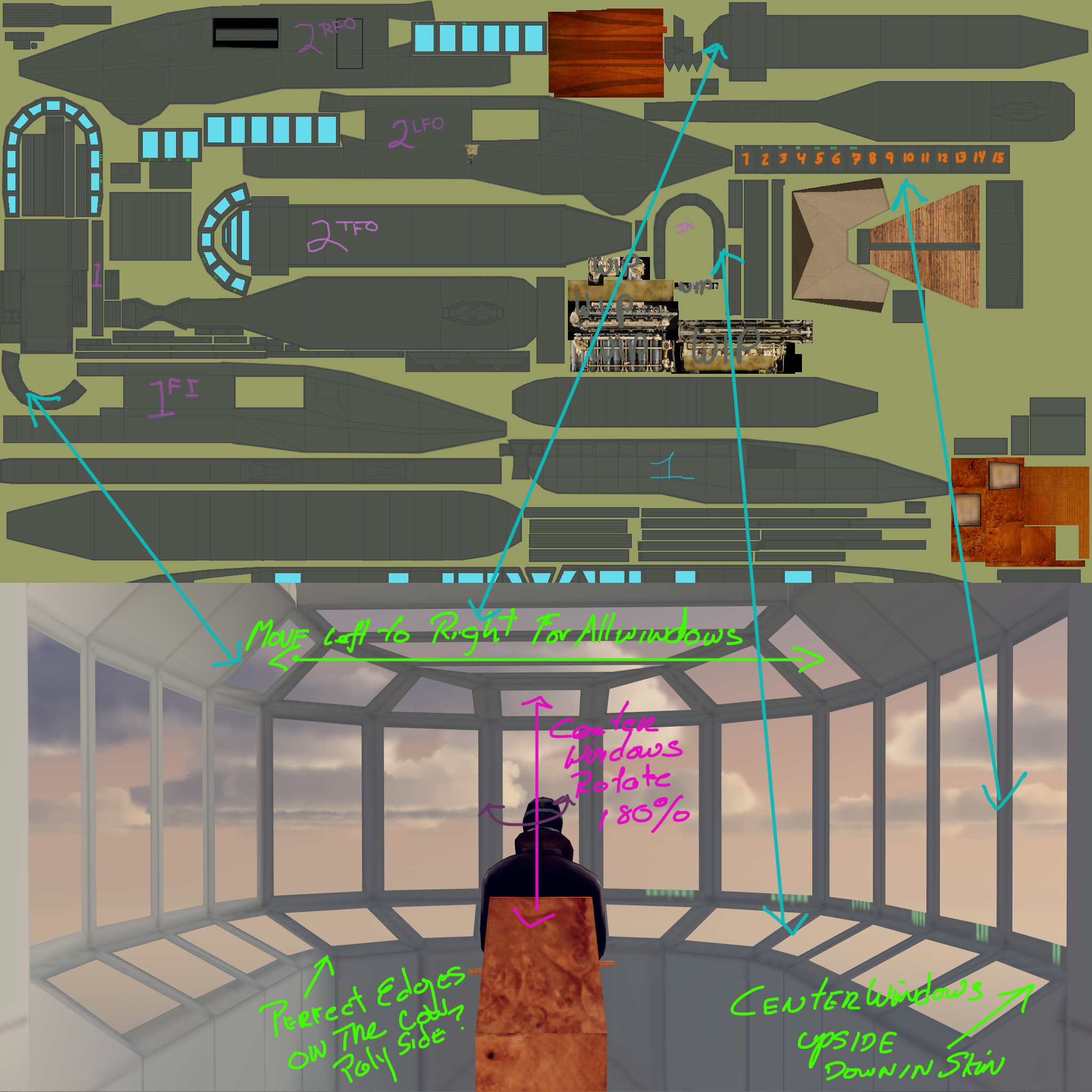 While reworking my skin I finally noticed that the widow location in the wire mesh for the inside center windows, is upside down. You can see my number marks at the top of the skin and then at the bottom of the window picture.

The next two problems showed up when I figured out how to make the alpha work for the widows.
As you can see the "inside" widows look great, but in pictures 1, 2, 7 you can see pixelated blocks on the outside upper and lower windows. The light grey lines on the outside windows are caused by the alpha as well. The rear Gondola (not pictured) has two windows that have no window effects at all and are always a solid color on the inside and clear from the outside.

So the conclusion I am coming to is some issue with the widow glass in the model. Either the windows could be moved in the model as per the picture above or the effects need to be reversed for all the windows and two back windows updated with new effects is possibly needed to correct this? This is may be an issue for Genius?

Anyone else skinning this having any luck with glass?

Fritz
Note: if you want my current alpha before release, PM me.