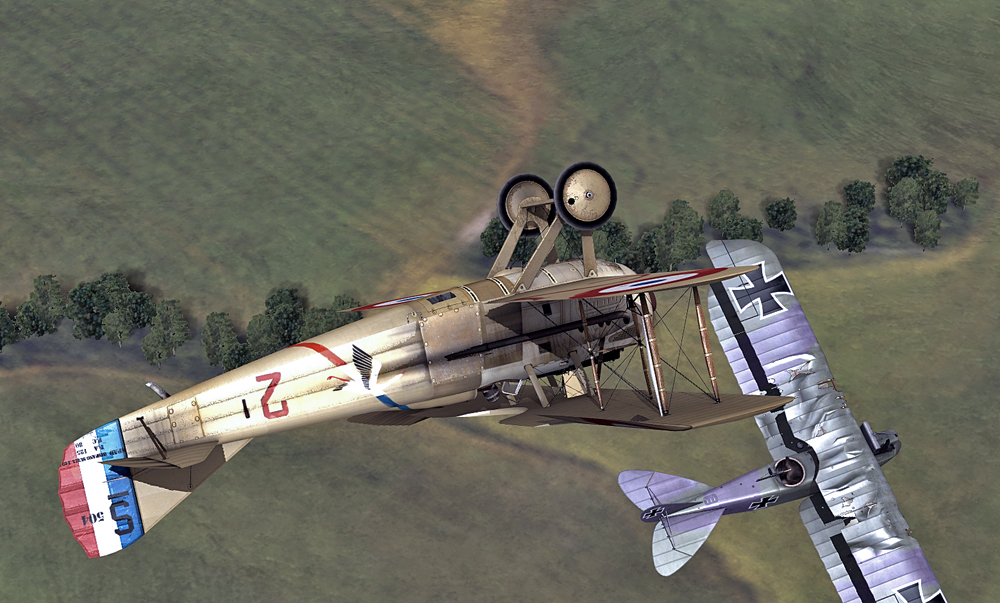 This thread is for all the closet and not-so-closet SPAD lovers out there! Share your (possibly fanatical) passion for these magnificent aircraft, exchange tips and advice on how to fly a SPAD successfully in RoF, and generally indulge in your SPADdiction.
—————————————————————————-
What is it about the SPAD that drives otherwise seemingly sane people to the brink of madness… and beyond?
I know many RoF pilots adore the SPAD, but sometimes it almost seems like they're afraid - or maybe ashamed? - to admit it…
For me, the SPADs are absolutely the coolest and most exciting planes in the game. They give a feeling of freedom and exhilaration and SPEED unlike anything else in RoF. In the right hands, and with the right tactics, they can be extremely deadly and seem to be considered some of the better (and for some/many, the best) planes in the game.
On the flip side, the SPAD demands a very particular style of flying and a mastery of engine management to achieve success. If you fail to adhere to these absolute, iron-clad demands, a swift death is guaranteed to be your fate, especially in multiplayer.
The goal of this thread is to help SPAD enthusiasts get the most of their planes, especially against what are probably their most challenging opponents: the Dr.1, the D.VIIF, and the Pfalz D.IIIa.
—————————————————————————-
Requiem's Energy Fighting SPAD XIII:Lag Displacement Rolls:A SPAD AmbushHigh Altitude Bounce (6000m to 4000m) with SPAD XIIISPAD XIII vs Fokker D.VII, Gotha G.V and Fokker Dr.1
(The result of dedicated practice following the advice in this thread)
How to Fly a SPAD to Win
With input from Josh_Echo, Requiem and more:
Show me video of how to fly a SPAD to win
These tips from Josh_Echo in that thread have proven true in my own experience and are worth quoting here for emphasis:
Good enemies for the SPAD include Albatrosses and Fokker D.VII. You can indefinitely maintain and increase an altitude advantage over them, and usually deny them a prop-hang shot. Debatable targets include the Fokker D.VIII and Pfalz D.IIIa; you might be able to maintain an altitude advantage over these indefinitely, without exposing yourself to a shot, but don't count on it. Avoid the Fokker Dr.I and Fokker D.VIIF. You cannot maintain an altitude advantage over them; they'll catch up in a few turns, and they're both excellent prop-hangers.
The best climb speed for the SPAD XIII is approximately 120 K.P.H. Best sustained turn speed is approximately 150 K.P.H., according to MIG77's test. However, attempting to turn at best sustained turn speed in combat will generally get you killed, as it gives you the fastest turn but it is a very wide turn. You'll want a compromise between fastest turn and tightest turn; fastest turn is too wide, tightest turn is too slow. I generally find that turning at best climb speed is about the best compromise for sustained climbing turns.
—————————————————————————-
Spin Recovery Techniques
See Taipan's
Rof Quick Reference
.
Other more general tips:
You must use manual engine management of radiator and mixture to get the best performance from the plane.
In multiplayer, if you see "RM" in the top right corner when you get in the plane, then the server is set to have automixture and autoradiator toggle on by default. This is a SPAD death sentence!! Hit ESC, go into options and bind keys (if they aren't already bound) to toggle automixture and autoradiator. Many people use Shift+M for mixture and Shift+R for radiator (these may be the defaults, can't remember).
Note: The 150hp SPAD VII doesn't have radiator control.
When diving on a target, throttle back slightly to keep RPMs below redline (2100 RPM in XIII) to prevent overrev damage, and close the radiator as much as needed to prevent overcooling damage to the engine.
When climbing for an extended period, remember to adjust mixture. Climb RPMs in the XIII should be approximately 1900 at 120kph depending on altitude. Lean till the RPMs drop slightly, then increase rich just enough to get back to peak RPMs.
Consider trying an "S-Curve" on the rudder response curve to tame the incredibly powerful SPAD rudder. This one works nice with CH Pro Pedals:
When possible, use aileron & elevator to make fine aim adjustments rather than rudder, which can often throw you off radically. A small amount of S-Curve around center can help smooth both these axes out.
SPAD visibility is legendarily bad, so make sure to frequently adjust heading so you can get good views in front, to the sides, and behind.
If using TrackIR, make sure to enable side-to-side movement so you can lean out the side of the cockpit and look ahead as well as check low six - makes a HUGE difference. Put some deadspace in the center of the side-to-side response curve so you don't accidentally throw off your view of the gunsite.
Altitude + Speed = Energy. Keep a speed and altitude advantage over your opponents whenever possible. If you lose all your speed, make sure you have enough altitude to dive away from the fight. If you are low and slow - you're doomed.
When you have to dive to save your life, don't dive vertically down and then pull out horizontally - a wise opponent will make a shallower dive and be able to intercept you, even with the SPAD's greater level flight speed. Instead try not to dive vertically, or if you do, just far enough to get out of gun range, and then flatten into a shallower dive (or stop diving altogether, depending on the situation).
You're not running away, you're attacking in a different direction! If anyone complains in chat, remember that they're asking you to play to their advantages instead being forced to play to your own.
Turnfighting is for Camels and Clownwagons. Don't do it… ever. You. Will. Die. Every. Time.
They don't get to shoot at you unless you let them. This can take a while to fully appreciate, but, with the SPAD's huge speed advantage versus most opponents, it's quite true. Attack only when you have the advantage, and if you don't have the advantage, fly away from the fight until you can come back with it. You control whether they can shoot at you or not.
OK! So that's a start. Please feel free to add to the above or correct any inaccuracies. Let's make this thread
TOTALLY SPADICAL!!
<!– s:x –>
<!– s:x –>