I've developed a small java application that allows to convert any Single Player .mission file to a Coop Mission , or simply adjust the flyable aircraft in a previous Coop mission without manually editing it.

Attention! New version 1.1 - See release notes in the second post.

Updated - Now in English, option to change language to Spanish (ES) in config.ini

https://www.dropbox....ter_v11.7z?dl=0

Requirements
The software needs Java Runtime Environment 7 (JRE7) to run. If you have an older version, please update (http://www.java.com/download).

Installation instructions:

Just extract the app anywhere you like. Inside the folder you'll find 3 files: RoFCoop.jar, config.ini and speeddata.csv.





The first one is a java executable file (double click to open, just as any .exe), and the second one is the configuration file (as it name indicates). This second file must be edited in order to establish the correct path to the "data" folder for your Rise of Flight installation (in my case it's "D:\Rise of Flight\data").




Since I'm from Uruguay, the labels are in Spanish, so here's a litle explanation on how to use the program:

The first dropdown lets you choose which type of mission you want to convert (Single Player or Coop).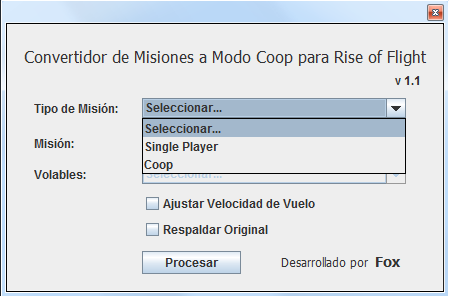 Once selected, the second dropdown will show you the missions found in your game installation.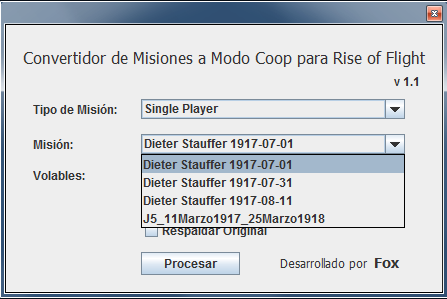 The third dropdown lets you select which aircraft you want to make flyable ("Volables:") in Coop Mode.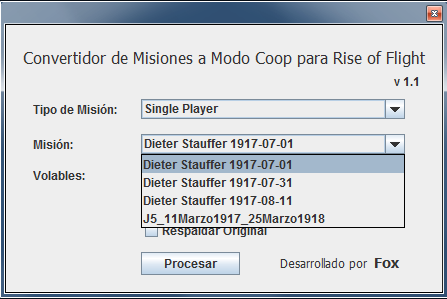 Options:

1 - "Primer Grupo de Vuelo" (First Flight Group) - Makes the first flight group present in the mission (the player's group if the mission was generated using the awesome PWCG). So your friends can join your pilot by taking the rest of the flight's aircraft, but the rest of the aircraft present in the mission will not appear in Coop Lobby (so you don't know how many friendly or enemy aircraft will be around).

2 - "Potencias Centrales" (Central Powers) - Makes all Central Powers aircraft available for Coop Mode, regardless of the squad. This way you'll have the chance to have a friend fly a bomber while you escort him, for instance)

3 - "Potencias Aliadas" (Allied Powers) - Makes all Allied Powers aircraft available for Coop Mode, regardless of the squad.

4 - "Todas las Aeronaves" (All Aircraft) - Makes all aircraft flyble in Coop Mode, so you can have "Force on Force" missions.

Last, you'll find a "backup" option check, in case you want to keep the original file (it will be renamed before being replaced with the modified one).

Well, I hope the instructions are clear enough, and that you find the program useful. If you have any doubts or comments, please send me a PM, or just post it here.

PD: I'd like to thank again all the people from which I received gifts (most notably Sid and GunSmith, but not the only ones), this community is really exceptional.