I'm putting my personal skin up for a vote in the hopes that I can actually get to use it online! Its the basic Jasta 2 color scheme of black and white tail (though I intentionally flipped the colors on the stabilizers so its opposite on top and bottom- I just thought it looked cool) with a nose marking that is a combination of Erich Hartmann's Bf-109G 'Karaya 1' and the squadron 'feather' markings of the 17th Pursuit Squadron's Curtiss Hawks in the 1930's. The red-white-black bands on the fuselage and wings are what I've chosen as my personal identification marking (to be discernable at a distance in a no-icon arena, as the black nose doesn't stand out very well) and the yellow shield crest on the fuselage sides is the crest of my Great-Grandfathers hometown, Langen, Hessen. His father (my Great-Great-Grandfather, obviously) served in the German Army in WWI. The markings are applied over a standard lozenge pattern fabric- nothing fancy there.
DDS file link- <!– m –>
http://www.filefront...7_J2_Treize.dds
" onclick="window.open(this.href);return false;">
http://www.filefront...7_J2_Treize.dds
<!– m –>
And a front-quarter shot-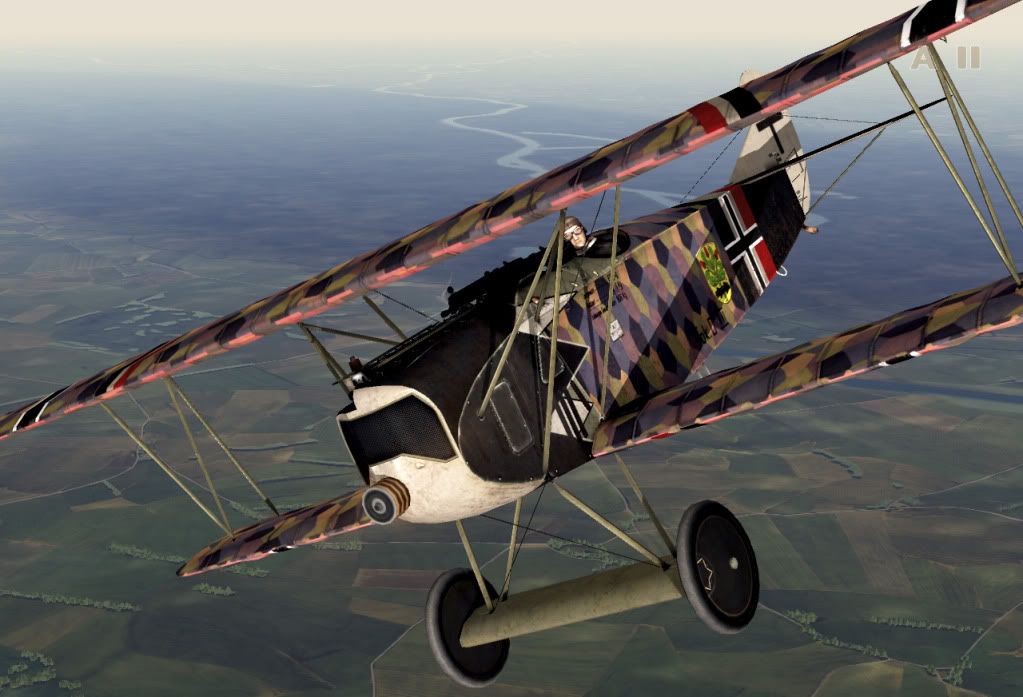 I can provide shots from other angles if desired/required.
I hope it can get included, I've put a lot of work into my baby!